Fresh from her first ever headline shows, triumphant with two sold-out Melbourne shows, rising artist Eliott announces today her debut EP Bold Enough will be released Friday Sept 14th out through Island Records/Universal Music Australia. Included on Bold Enough will be her achingly beautiful singles "Figure It Out", "Over & Over" and "Calling". 
Today, the 21-year old has also shared a live version of her current single "Calling". The raw beautiful performance shot at Edinburgh Gardens in Melbourne, showcases Eliott's awe-inspiring, powerful vocals noted by numerous glowing reviews of her live and recorded music. The original version performed on piano has been adapted to acoustic guitar with alt-folk artist and WA Folk Music Song of the Year award winner, Riley Pearce lending his musicianship to the performance.
The Bold Enough EP was written and recorded last year with songwriter and producer Jack Grace. The result is a thoughtfully recorded 6-track EP with production that never overwhelms, giving Eliott's inimitable vocals room to soar. A multi-instrumentalist, Grace also played piano, synth, bass, organ and guitar alongside Randy Merrill on the record. Other contributors include LUCIANBLOMKAMP who co-wrote "Over & Over", Kuren, who co-wrote "Calling"; Hanna Olikov (cello), Bridget O'Donnell (violin) and Simon Lam, who mixed the EP.
Eliott first cut her teeth at singing and songwriting while growing up in the small town of Cobram, Victoria. At four-years-old, she was singing, and at fourteen, she was penning her first original songs on guitar. She performed in local theatre productions and played gigs around her hometown but it wasn't until Eliott found herself at a crossroads that her music really started to take shape.
At eighteen, she was studying performance in Melbourne but felt unmotivated and unsure of herself. She was struggling to write songs and questioned whether she was going down the right path. In 2016, when she was nineteen, she packed her bags and went to the Blue Mountains. Only meaning to stay for 3 months, she was there for nearly a year and it was here in this insular, quiet enclave, away from the noise of the city, Eliott finally focused on her craft and songs just poured out of her. Much of Bold Enough was written during her stay.
Today's announcements arrive after her recent collaboration with LUCIANBLOMKAMP, "Doing This For You feat. Eliott", was added to (spot) rotation on triple j this week.  Listen Here
Eliott will be supporting No Mono in Brisbane, Adelaide and Melbourne on their National Album Tour as well as Big Sound Festival.
Check out Girl Gang Music's Q&A with Elliot, in full, below: 
GGM: How did you get here? Did you always know you'd be a musician?
I've been singing for as long as I can remember, and writing songs since I was about 12 – I didn't really expect to be doing music as a career, it was just always something I loved and was passionate about, so guess it's a bonus that I get to look at this as a career.
GGM: What has been your proudest moment so far in life? Music or otherwise?
Definitely playing my debut headline show, which sold out in Melb. Having all of my mates and family there was one of the most rewarding feelings.
GGM: What was the songwriting process behind "Calling Out"? If you have any pictures, we'd love to see them. Just a painfully gorgeous tune!
"I had the chorus written for "calling" for about two years.. but nothing really came from it, I could never really find the right melodies/instrumentation that fit such a big chorus.. it wasn't until I worked on it with Jack Grace it really came together…
Here's my first thought on lyrics for calling in 2016"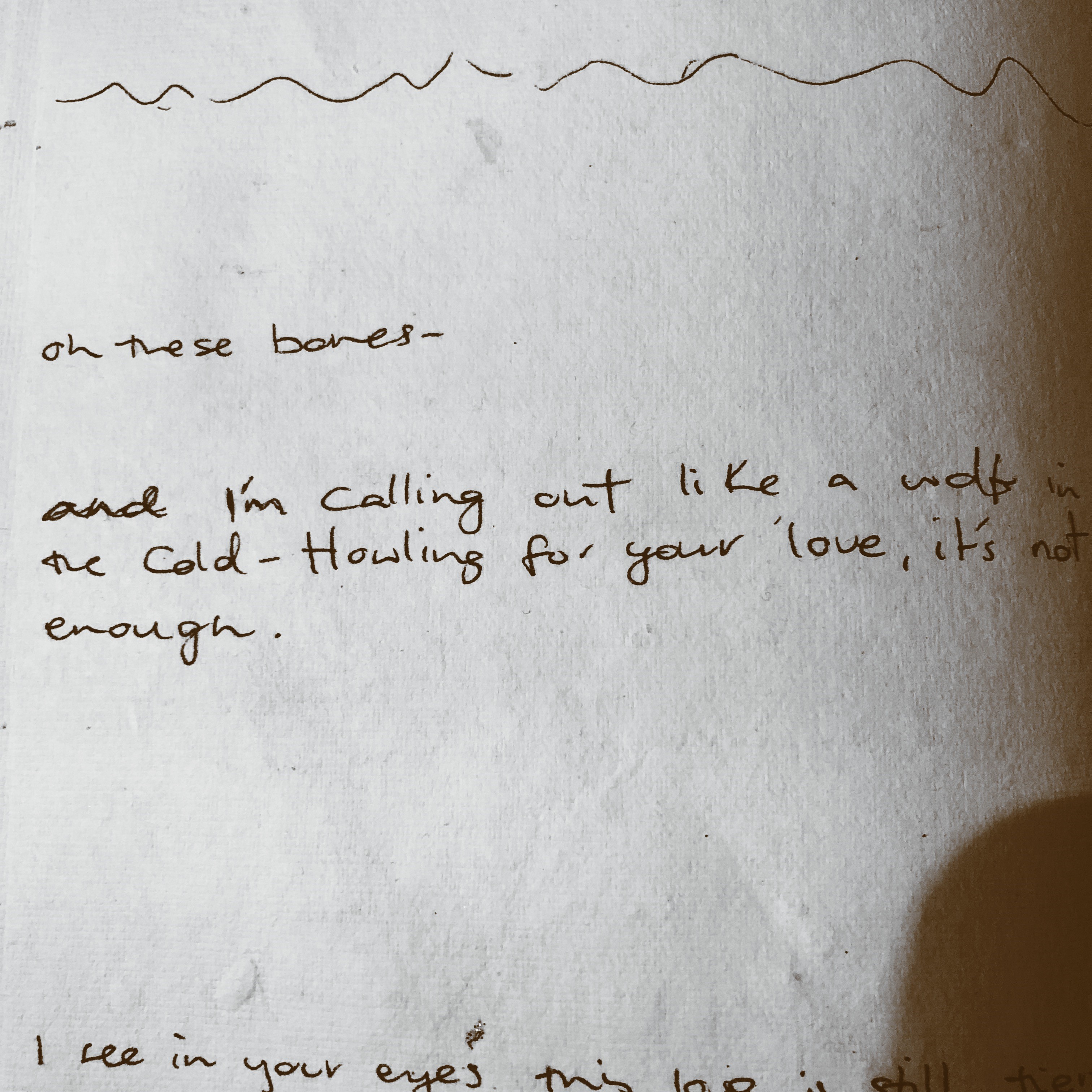 GGM: How do you deal with naysayers?
"I always listen to other people and what they have to say, but only take on board what I think is beneficial and important for my music."
GGM: Do you have any tips for any women in the industry?
"Trust your own judgment and don't let people talk down to you, be confident in what you do, and what you offer, and don't apologize for it. Embrace every second you get on the stage, and be exactly who you want to be."
GGM: What's one thing most people don't know about you?
"I like to play basketball and I once sang on a floor company ad when I was 8 years old for my local radio."

Elliot's Girl Gang Music Picks
Your Smith
JEFFE
Julia Jacklin