Honeycraft is the stage name of Catherine Rose Smith, a songwriter and performer committed to excellence in each expression of her artistry. Originally from the San Francisco Bay Area, Smith moved to Los Angeles to attend the second-ever class of USC's Popular Music program. As a songwriting focus, she immersed herself in both writing classes as well as one-on-one lessons.
After graduating in 2014, Catherine remained in LA where she continues to write daily and collaborate frequently. She recently finished recording the debut EP for Honeycraft. The EP, titled Crystal Ball, will be released throughout late 2017 and early 2018. Her daily writing habit and collaborations have also led to a diverse catalog of work, ranging from radio-friendly pop to progressive house.
Hear Honeycraft's latest, "Shelter", below:
Check our interview with Honeycraft below, in full: 
GGM: How did you get here? Did you always know you'd be a musician?
"I've been singing ever since I was really small and used to write silly songs on our family piano about Pocahontas and going to Paris. My parents put me in voice lessons as well as piano. I didn't start seriously writing songs until I was in high school and I started taking guitar lessons. My dad and brother both played guitar so there were plenty of guitars all around the house.
I started going to open mics in the Bay Area where I'm from, and people's responses to my songs encouraged me to keep going. My high school had an open mic that was just for poetry and I kind of commandeered and turned into a music thing. Kind of rude in retrospect but also cool because literature and music came together in this cool cultural night that was super inspiring for us high schoolers who were so angsty and had a lot of emotion to get out.
Playing guitar and writing quickly became my favorite way to handle all that teen angst and I would stay up so late practicing and writing, waking my parents up with sad songs. I came to LA to study music at USC and everything just followed from there. I found something I loved and followed the wave of what felt good to me."
GGM: What has been your proudest moment so far in life? Music or otherwise?
"It actually goes way back to a random gig I played in high school. There was a relay for life (a walkathon supporting cancer research) in my hometown that I was asked to play at. At the time I was writing slower, more introspective songs so I was a little self conscious that I wasn't really helping to jazz people up to keep walking or running. I played for quite some time though, so I ended up bringing out some ultra deep cuts I didn't usually play live. One of them was pretty cryptic and had some pretty personal lyrics about suffering and hope. One of the runners came up to me afterwards and said how much that song matched exactly how they were feeling inside during their struggle with cancer.
That was a really impactful and proud moment for me. A song that I thought was maybe too vague and self pitying had really meant something to someone. I always think about that moment when I'm writing a lyric and something inside of me is scared to really go for it. You never know if there could be someone listening who has the same pain as you, and to me music is all about connecting people on deeper levels than we usually achieve in everyday interaction."
GGM: What was the songwriting + production process behind this record? 
"The songs had been written for a while, and I was looking for someone to really bring them to life. I ended up going through some of my favorite records and doing research on who worked on them. I found Thom Monahan because he worked on some of my favorite Vetiver tracks. I emailed him with a description of what I was trying to create and he really felt the vibes. We tracked the record, a lot of it live, at his awesome studio in Van Nuys. When we were recording drums the gate outside the studio slammed shut perfectly in time with the snare. We left the gate in of course. How could you not?"
GGM: Do you have any tips for any women in the industry?
"Support other women, and let other women support you. In my experience, "the cut throat music industry" cliche is absolutely a myth. Nearly every time, women I've met have been so eager to share resources, refer you to people, and offer amazing advice. The biggest lesson I've learned during my time in LA is simply to ask for help. If you're stumped and don't know what to do next, ask someone who's walked the same path as you. Don't know who would be the best mixer for your record? Ask around. People always have awesome ideas and recommendations and are more than willing to share.
I always am very generous with my connections and resources as well. People remember your help and it feels good to give someone else a boost.
Also, regarding rejection: it always, always sucks. But two quotes that have been north stars for me are the following:

"You can be the ripest, juiciest peach in the world and there's always gonna be someone who doesn't like peaches."

"If a door doesn't open, it's not your door."
Those are terribly paraphrased, but they are the words I keep in mind when the going gets tough. I like to think of people who don't like the project as angels, guiding me to people who do. Be soft with yourself and always be your own biggest fan. Drown yourself in love and support."
GGM: What's one thing most people don't know about you?
"I was a dancer before I was a musician. I grew up doing ballet and absolutely loved it. My one teacher always put on Chopin nocturnes as warm up songs and those pieces had a major effect on me. They're so romantic and dreamy."
GGM: Do you think being a woman in music has affected your career? If so, how?
"Absolutely. In some positive and some negative ways. My parents are incredibly open minded and would never be purposefully sexist, but they did put my brother in guitar lessons way earlier because they thought it was more of a boy instrument. I've held myself back with regards to learning production because I subconsciously thought it was a boys' club.
On the other hand, it's been a pleasure and an inspiration as an artist to find a balance between masculine and feminine. I'm in the place now where I really want to lean into the feminine and not be afraid of being soft and vulnerable. I grew up having weird ideas about not wanting to be too feminine and be seen as a Jewel-type songwriter. But my biggest goal now is to be authentic, and if that means being ultra-feminine I'll follow my inspiration exactly where it leads."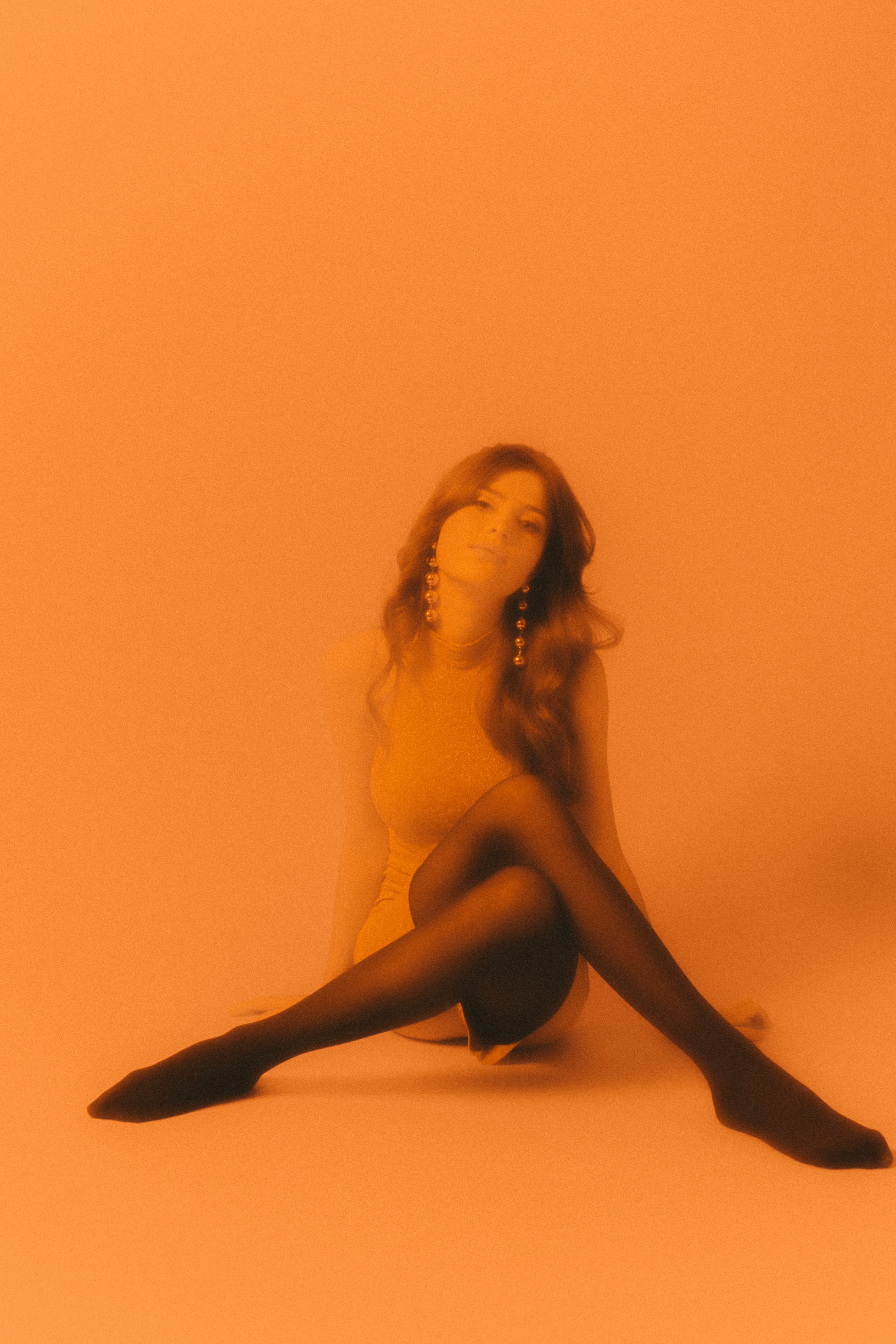 FOLLOW HONEYCRAFT
Honeycraft's Girl Gang Music Picks
Joanna Newsom
"One of my biggest inspirations is Joanna Newsom. I've never heard lyrics as creative and earnest as hers. She also leans into her feminine in an ultra-authentic way that I can't get enough of."
Linda Perhaps
"Linda Perhaps is a psychedelic folk singer from the seventies who created one of my favorite records, Parellelograms. She has that soft, mysterious, Vashti Bunyan-type voice that sounds like a wood nymph."
Rina Sawayama
"I can't get enough of Rina Sawayama right now. "Cherry" is one of the best new tracks I've heard in months. She is so sparkly and tough at the same time—one of my favorite vibes."