"Just because it doesn't exist for someone else doesn't mean it can't be a reality for you"
Influenced by the likes of Lorde/Halsey/Broods, IOLITE claims the darker spectrum of the pop genre, marrying haunting vocals with hooky melodies. Amassing 600,000 streams with her last 3 singles, "Holograms" is welcomed by a steadily growing audience.
But growing up, she says she had a lot of people telling her that her plans of being a writer & artist were unrealistic. "There were kids around me wanting to be lawyers & doctors when I just wanted to write music. I didn't fit in. I had teachers calling me out of class to convince me to pursue a different career. Holograms was written on my first writing trip to Nashville when I had just graduated high school."
She says, "It's an anthem for myself, & for others to sing as a reminder that just because your dream doesn't exist for someone else, doesn't mean it can't be reality for you. The lyric "courage is the antidote" talks about just that. Having the courage to be different and to pursue the desires that have been given to you, because they weren't given to you by accident."
It's discomfort what drives you forward in the music business, she says. "In this industry, you cannot be afraid to be uncomfortable. I have learned that if I want to be successful, I'm going to have to be uncomfortable. This whole thing is about growing and learning. I hate staying in one place. I've learned that I need to be ok with sometimes feeling down, because honestly, doing music is one heck of an emotional roller coaster. You're gonna have your bad days. You have to break through the negative things people say, the bad writing sessions, the comparisons, the dry seasons will be there no matter what…
It's about having the confidence at the end of the day to say you're ready for another round because you've seen the growth, and in the end you just simply love making music and you believe you're good at it."
GGM: How has being a woman in the industry affected your career? If it has?
"Being a woman in the industry has affected my career in so many ways. I grew up with 5 brothers who also do music, and zero sisters. I think this gave me the confidence to be myself even if I was outnumbered. My parents taught me to stand up for what I believe in. They gave me the courage and inspiration to do the best I can to impact society in a positive way. I think women have a lot to say and to write about. I listened to artists like Christina Aguilera & Kelly Clarkson growing up. They have impacted the world so much since then and I hope to inspire someone the way they've inspired me."
GGM: So what's next in 2018?
"2018 is going to be an exciting year. I'm in the studio any chance that I get, preparing for a lot of new music hopefully coming springtime. The next step is giving my listeners a story that I've personally lived. Something that my fans can get to know me from on the inside and out. I'm not sugar coating anything in these next songs. 2018 is going to be a year of authenticity and a time for fans to get to know me deeper and the heart behind the music."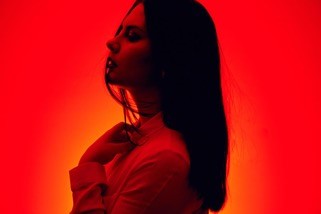 Follow Iolite
Spotify | Soundcloud | YouTube
Iolite's Girl Gang Picks
"There's an awesome girl group called TRALA. Also, Bishop Briggs and Astrid S will always be favorites."
TRALA
Bishop Briggs