Twenty seven year old Marissa Kay — Machusetts-born singer/songwriter now based in San Francisco — recently found success funding her first solo "country-punk" project called Trans is Love through Kickstarter. (If you're nor familiar with Kickstarter, it's a crowdfunding platform that so many of our Girl Gang faves have found independent success on, like Julia Nunes, Larkspur, and more!) She cites inspirations like Ryan Adams, Brandi Carlile, and Against Me as her musical influences — and the project itself is genre-bending.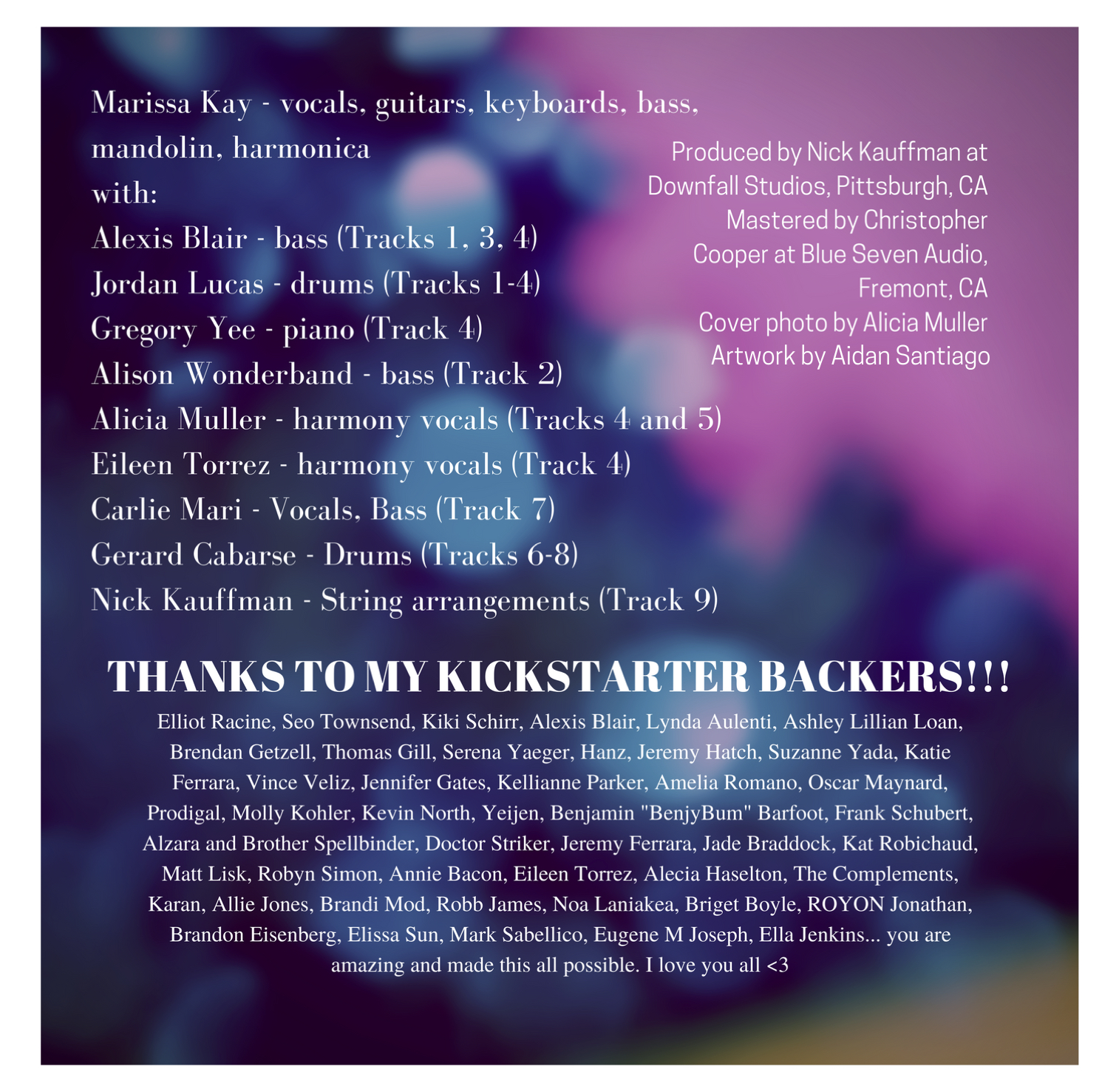 Trans is Love was written over the time span of a decade — and in a way — archives Marissa's transition and the process of finding herself as a transwoman and being able to live her life authentically. Throughout the project, you can hear the hindsight, introspection, and honesty that only exist when a project has been developed over a meaningful amount of time.
Marissa says that Trans is Love is her anthem for the transgender community. "It's about the immense struggles we face, the joy and euphoria of coming out as our authentic selves, and the fighting spirit inside each and every one of us." Marissa says that before she transitioned, she herself felt empty, and struggled with depression and the will to live, but once she was able to come out as her true, authentic self in September 2015, "everything changed in an instant".
"Everything changed in an instant. I learned to love myself and the world around me. I became part of a wonderfully community that constantly supports each other."
The Freedom to Start Fresh
If Marissa's story wasn't inspiring enough, she decided to take a big leap to the West Coast in June 2016 — financially, metaphorically, and finally. She quit her job, sold everything she couldn't take with her, and drove 3,000+ miles cross country from Florida to San Francisco to pursue her dream of making music and to find a new home. So far, California has not only welcomed her, but has given her a creative community:
"I've performed all across the Bay Area in venues such as the world-renowned Hotel Utah Saloon and The Starry Plough. I also formed a band, The Lunar Angels, consisting of some of the most talented and hard working musicians in the San Francisco. I've worked in community outreach and activism for the LGBTQ+ community and social justice."
Collaboration is Key
Marissa mentioned that a key component of producing the album was through collaboration with several friends in the Bay Area, and female and LGBT+ musicians performed instrumental and vocal tracks throughout the album. Two songs on the album are collaborations with other artists. "Fight Like A Girl" features LEX the Lexicon Artist, a rapper from Berkeley, on a verse, and her song "Close My Eyes" was the product of a collaboration between Marissa and a dear friend Carlie Mari. "We wrote the song together one afternoon and I thought it would be awesome to have a duet where we harmonize with each other." Check out Carlie's EP Bitch Like Me on Spotify.
Now, Marissa's album is ready to be shared with the world. On November 17, 2017, Trans is Love will be released this Friday worldwide. Marissa and her band, "Marissa Kay and the Lunar Angels" will be headlining the album release show (details here on Facebook) this Friday. Doors are at 7:30PM and tickets are available for $10. Openers include Swamp Child, a female-fronted blues-rock band, and Drew K, an alternative folk singer songwriter.
ALBUM RELEASE PARTY: Marissa Kay and the Lunar Angels
SAFE(R) SPACE VENUE
924 Gilman Street, Berkeley, California 94710.
An All Ages DIY, Volunteer Run, 501(c)(3) Nonprofit, Music & Art Community Space Since 1986.
Follow Marissa Kay
Website | Soundcloud | Spotify |  Facebook

Marissa Kay's Girl Gang Music Picks
Eileen Torrez
Rabbit Quinn