Sammi Morelli is an award-winning Canadian singer/songwriter. In 2015, she released the single "Everything You Are" as the first of a new, more soulful sound that featured strong 80's vibes and a verse from Vancouver's rising hip-hop star Stevie Ross​. It earned three Niagara Music Award nominations for Best Song, Best Songwriter and won "Best Female Vocalist."
It started young, she says. "I was absolutely one of those kids who couldn't stop singing… everywhere I went, any time of day… I'd just be in my own little world singing away." Soon after realizing she had a general love of music, she began writing her own melodies because it was "such a natural thing to hear full orchestrations in my head and sing along to those".
(Editor's Note: Maybe nobody ever told her yet that hearing the full musicality of an orchestra in your head is a talent. Then again, maybe it's witchcraft…)
GGM: What's one thing most people don't know about you?
SAMMI: "I consider myself a bit of a witch… but I only use my powers for good ;)"
In 2016 and 2017, a series of serendipitous events (along with a few gutsy moves) led Sammi to assemble an all-star team of producers & writers for her highly anticipated forthcoming album, including; multi-platinum, Juno award winning producer Ryan Stewart​ (Carly Rae Jepsen, Hedley, Simple Plan), Grammy-award winner Ian Prince​ (Quincy Jones, Bobby Brown), along with powerhouse singer/songwriter Laurell​ (Tritonal, Boehm, Charlie, Eurovision 2017, Santa Clara) and Billboard Top 100 artist/songwriter Stef Lang​ (DYLN).
Fresh off a 25-date Cross-Canada tour Spring 2017 — where she wowed audiences from Montreal to Vancouver — she's unleashed her new single "Everybody Bleeds" which reached nearly 25,000 Pandora spins in it's first week. Hear it here:
Sammi joked her answers to our questions were a bit wordy, but we think the context she gave us about "Everybody Bleeds" made the song that much better. "We [Sammi and Ryan] actually wrote "Everybody Bleeds" on Nov 8th, 2016… the day of the last American election. I was a big fat emotional wreck — cause even as a Canadian — I do keep up with what's going on with the world stage and knew what was at stake. We just couldn't ignore that chaotic energy that was so palpable that day. So when I got to the studio, Ryan and I naturally started talking about it, the state of the earth, society and particularly about how there's so much division and fighting with no room to listen or put yourself in the other persons shoes. We've seen how much more productive and peaceful we can be when we just learn to listen & have compassion with each other, even if we don't agree… I hope that in some way, "Everybody Bleeds" highlights the fact that, despite our differences of opinion, beliefs, skin color, nationality, gender identity or sexual preference… we're all human underneath, and inspires people to be kind to each other."
It's not a stretch to say that compassion and intuition are two of the strongest invisible forces of witchcraft that guide many of the best artists. Sammi's thoughtfulness was continually striking throughout this interview, and it's clear that this wisdom comes from experience. "I remember being thirteen years old and having my manager at the time suggest I get a personal trainer to slim down… because, of course, it's all about sex-appeal when you're a pre-pubescent singer-songwriter entering the market." Please understand her sarcasm button was *on* there.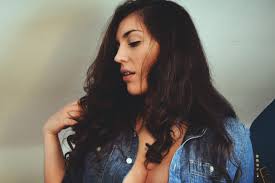 She says, "That's just one particular example of how backwards this business is… and how early it starts. Those conversations and critiques about my body some people feel entitled to have (like it has anything to do with my music) have never stopped… and I've rarely heard of my male colleagues experiencing anything close to it." Regardless of shared experiences and statistics about the entertainment industry's continuous struggle towards gender parity, Sammi says she's glad to see the tides are changing, thanks "to the many courageous, strong folks who speak their truths, support each other and take shit from no one."
Keep your eyes on Sammi in 2018. She's got a full length album on the way and says she's been working on it tirelessly for the past couple years. "Almost 20 years into writing and recording music for my and many other projects, deals, tours, and reinventions… I've learned to trust my intuition & instincts as an artist… to lead with my heart. Feeling stronger & more empowered than ever… still in my own little world singing away!"
"Almost 20 years into writing and recording music for my and many other projects, deals, tours, and reinventions… I've learned to trust my intuition & instincts as an artist."

Follow Sammi
Website  | Facebook | Twitter | Instagram | Soundcloud | YouTube
Sammi Morelli's Girl Gang Picks
Tara Holloway
"One of my best friends, tourmate & major inspirations: Tara Holloway"
LIZZO
"The fierce, gorgeous LIZZO is serving up sexy music & badass body positive videos."
Tank and the Bangas
Tank and the Bangas are one of the most insane bands I've ever heard… powerful, experimental, authentic and unlike anything out there."